The Youth Transitions Collaborative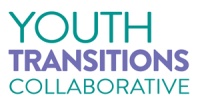 The Youth Transitions Collaborative is a powerful community of more than 45 organizations that share a common mission: to empower youth and young people with disabilities as they enter adulthood and the world of work. We also share the belief that these young people have the ability to succeed, if only they are given the opportunity.
Each of the Collaborative members has a history of sustained commitment to young people with disabilities, and a clear track record of success. As effective as we have been individually, the members realize that we can multiply our impact by sharing expertise and resources with like-minded organizations. We are truly stronger together.
About one-fifth of the Collaborative members have offices within the National Youth Transitions Center (NYTC), and every member can use the Center for workshops, meetings, training, classes and receptions. This interaction ensures that members share tools and programs so that we can benefit from best practices. Our collaboration also keeps members abreast of issues and developments in our field of work.
In addition, Collaborative members provide critical input to the NYTC, helping to shape and direct the Center's planning, programming and advocacy. Through the Center, Collaborative members also participate in alliances with federal partners.
The ultimate result for Collaborative members is that we learn together, build together and succeed together. And in doing so, we bring greater awareness to our shared cause and help change attitudes about people with disabilities. The future needs everyone, and the Youth Transitions Collaborative is helping to make that truth a reality.